29 Cribbage Boards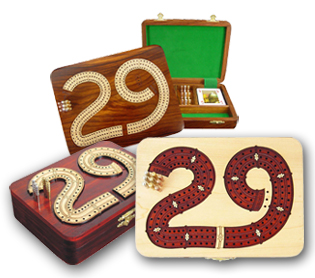 29 Cribbage Boards are available in folding & flat versions with playing card box underneath. Offered with 6 to 9 metal pegs and in 2 tracks to 3 tracks these boards are fine example of craftsmanship. From 60 points to 120 points continuous crib boards, the tracks are inlaid in natural woods which are neither screen printed nor any color has been applied.
Continuous Cribbage Boards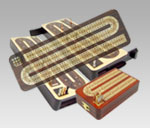 Robust design and exquisite looks are key features in these models. Available in 2 tracks to 4 tracks these models are available in flat and folding versions even with space to store 2 deck of playing cards. Tracks are made of solid wood and are inlaid on board with great perfection. Offered with 6 to 12 metal pegs, these boards are best in their class.
Metal Cribbage Pegs & Gold Plated Playing Cards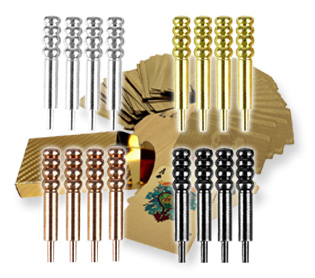 Have a board and looking for stylish metal pegs? Your search ends here! Now you can get extra set of pegs of your choice and continue enjoy the game with previously owned board. All metal and glossy finish, these crib pegs provide smooth touch feeling which is sure to attract anyone's head. You can also opt for stylish 24K gold plated playing cards.
Custom Theme Cribbage Boards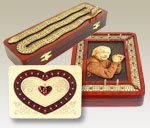 Now get custom personalized boards with your name, logo, brand engraved on it (*selected models only). Our dedicated designers team is putting its continuous effort to produce these custom theme boards every month and surely we'll be able to make it according to your choice very shortly.
Brass Inlaid Cribbage Boards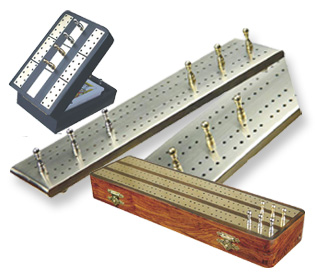 Wooden Brass Inlaid Boards are finely handcrafted and classically hand finished. Polished Brass tracks are inlaid in these models with great perfection which gives an avid player, the complete gaming experience. From 2 track to 3 track crib boards along with space to store playing cards and pegs in hinged, folding boxes or behind sliding lid makes them perfect cribbage board.
Unique Artistic Cribbage Boards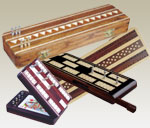 Inlay work in these artistic & unique boards is awesome. All natural woods such as Rosewood, Ebony, White Maple & Golden Rosewood are used to make these boards and artwork is inlaid in matching woods to provide elegant look. Available in folding & flat versions, these wood inlaid boards carry metal pegs and space to store playing cards.
Flat Cribbage Boards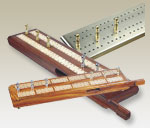 Travel Flat Wooden Cribbage Boards have sliding lid which is skillfully handcrafted on the side of board where metal pegs can be stored. Mounted on solid brass pedestals, these boards provide robust playing surface. Tracks are again inlaid and available in 2-3 tracks.
Travel Folding Cribbage Boards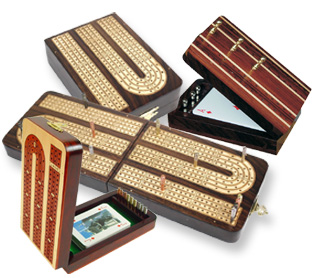 As the name suggests, these folding travel cribbage boards are portable enough to carry along while traveling. They have sliding lid on their side which can store metal pegs. Folded board layout completely flat when open and provides robust surface for playing. There is no box to store playing cards but available in 2 tracks.
Vast Range of Products
With over 150 different type of models which are never offered on any other website. All boards are made of natural wood and even tracks are made of wood. We don't use screen prints or colors to make tracks.
Expedited and Economical Shipping
We offer low value, fastest method of shipping. All our products are in stock and ready to ship in 1 day. Shipping via FedEx** Priority service so that your items reach you safely.
Guaranteed Low Prices with Quality Products
All our items pass through stringent quality control to deliver you the finest product you have ordered. We are also keeping the price range moderate enough to fit everyone's need and pocket.
Excellent Customer Service and Satisfaction
We have strive hard to deliver the best customer service through online shopping experience and with product quality. Our customer feedbacks explain much about our quality and service and above all we respect our customers.